On any given day throughout the year, the MVCS playground at the corner of Uhler St. and Mt Vernon Ave. is teeming with children — kindergarten to 3rd grade students use it during the school year, and in the afternoons and weekends, countless families in the community hang out there, even those without kids at the school.
But aside from the bright blue play equipment, the rest of the play area leaves much to be desired. On rainy days, the small field is a mud pit surrounded by trees with exposed roots, the picnic table area is frequently flooded and the unappealing chain link fence is often times littered with trash and weeds.
At the end of the last school year, the PTA and community volunteers made the first attempt to spruce things up by redesigning the rock and tree garden. Now it's time to take on the next phase — fixing the ongoing drainage issues and raising money to create a more enriching, educational and fun place for kids to explore and play.
Watch our Videos to Learn More
Mount Vernon Community School Playground Project from MVCS Playground Project on Vimeo.
MtVernon School Playground Renovation from Alex Bryant on Vimeo.
Our Plan
The PTA's playground committee, led by Kim Fondren and Liz Johnson, is developing a plan to improve the play area and optimize child development, learning, health, imaginative play, social interaction, and exercise. Here's a few of the ideas:
We are also working with the city to make infrastructure improvements, to fix rain and runoff issues, retaining walls, and fencing. One solution is to work with the water flow that occurs naturally during a big rain and create a watershed discovery area, with a intertwining path and mosaic creek bed. We're also making accessibility a priority so children of all abilities can enjoy the playground features. We'll add ramps where necessary and ensure that children in wheelchairs and with limited mobility can move in between and around the playgrounds with rubber surfacing, as well as through entrances and walkways.
Get Involved: Support Our Project
Funding for this project falls outside the school and the PTA's normal budget, so we're asking for our community's support. We want the playground to be a welcome, fun and safe place for MVCS students and children in the neighborhood to play. Use PayPal to donate to the Playground Fund:
Stay Connected
Sign up for email updates at mvcsplaygroundproject@gmail.com or follow us on Facebook and Twitter.
Latest Video
Mount Vernon Community School Playground Project from MVCS Playground Project on Vimeo.
Playground Plans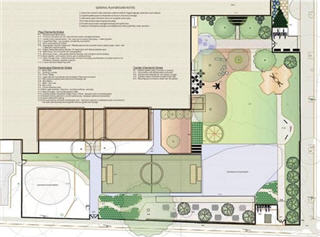 Watch a video of the playground restoration plans, as detailed by the landscape architect who designed it, Cheryl Corson.