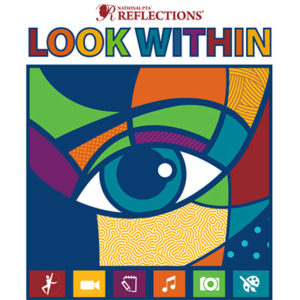 PTA Reflections is a national arts contest that encourages students from Pre-K through 12th grade to explore the arts and express themselves by giving positive recognition for their artistic efforts. Each year, MVCS students are encouraged to participate in this celebration of our students' artistry and achievement in the arts. We are pleased to announce the 2019-2020 Reflections Contest. This year's theme: "Look Within"/"Mira Dentro"
Prizes will be awarded at the school, city, Northern Virginia and state levels. MVCS students can participate in the Primary (pre K-grade 2) and Intermediate (grades 3-5) and Special Artist contest divisions.
Important Dates
September 6, 2019 (Friday): Reflections Kick-off at the Ice Cream Social (weather permitting)
October 18, 2019 (Friday): "Reflections Night" at MVCS from 5:00pm – 7:30pm
October 21, 2019 (Monday): Contest entries are due in collection bin in school lobby.
What is the Reflections Art Contest?
The Reflections contest is part of the National PTA arts recognition program for individual students to create art based on common theme. There are six categories (click on each to learn more):
MVCS students can create work for the contest any time before the due date:
At home (including camp, classes, clubs)
At school
At Reflections Night (to be held October 18, 2019)
What is the "Reflections Kick-off" event?
The Reflections Kick-off event is a time for returning and new MVCS students to get creative and explore their artistic side while enjoying ice cream. We will have art supplies available in a corner of the playground to get those creative juices flowing. Entry forms and guidelines will also be available. But, no need to wait for the kick-off event to get started on the works of art. Students are encouraged to work on and capture their summer adventures and experiences in their art! Just be sure to relate it back to this year's theme.
What is "Reflections Night"?
Reflections Night is a fun, art-filled evening during which students are invited to create new art and/or complete works already in progress. Volunteers will be available to help students record dance and musical pieces for entry. Art and writing supplies will be on hand to add that finishing touch to works of art started elsewhere or to fill a "blank canvas."
Reflections Night will be held at MVCS on Friday October 18th from 5:00pm-7:00pm.
How to Enter
Students can enter multiple times in one or more categories. Each entry must be the creative work of a single student (no group entries allowed); however, others can participate in the performance of the work.
Entries must be accompanied by a completed entry form, including the artist statement explaining how the work is related to the theme: "Look Within"/"Mira Dentro". Note: the artist statement is worth 50% of the score! See Judging below.
Download and complete an MVCS entry form: English | Español Entry forms and rules will be available this Fall in the school lobby near the Alexandria Book Shelf.
Entries will be collected in the plastic Reflections box in the school lobby starting the first day of school. The submission deadline is Monday, October 21, 2019.
PTA Reflections Rules For Students
General Participation Rules: English | Español
Judging
Contest entries are judged using National PTA guidelines. Professionals with no affiliation to MVCS conduct blind judging in all seven categories. Judges follow the National PTA Rubric, requiring Interpretation of Theme to factor as half (50%) of the total score, based on the artwork itself and artist statement. Creativity and Technique make up the other half.
Questions? Email Nathalie Simon at mvcsreflections@gmail.com.